Hypermodern Emergency Unit in Tel Aviv – inaugurated
At the end of July, the world's largest ER (Emergency Room) was opened at the Tel Aviv Sourasky Medical Center. The 8,000 square meter facility is equipped with self-check-in devices and robots to guide people in the right direction.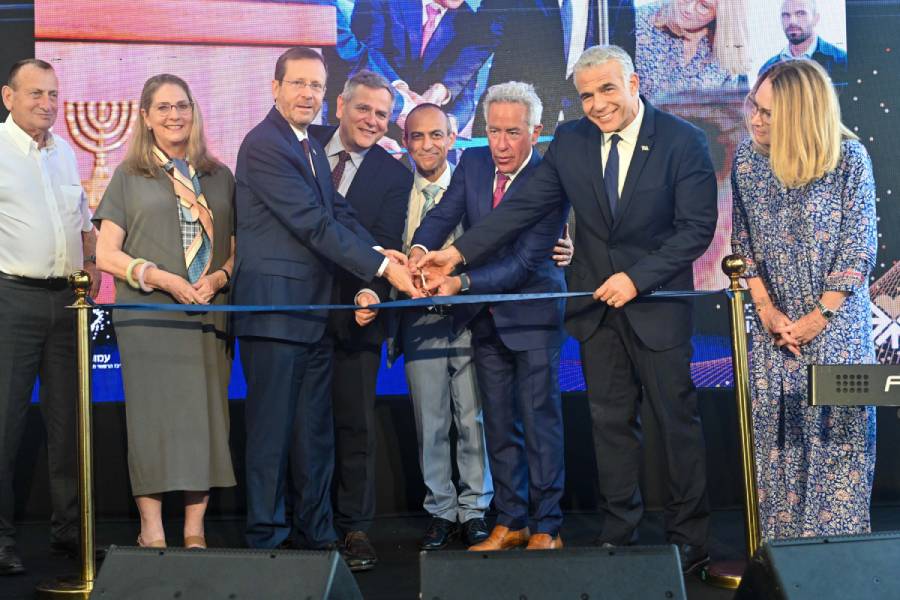 The opening of the emergency hospital in Tel Aviv on July 28, 2022. From left, President Isaac Herzog, Health Minister Nitzan Horowitz, hospital director Ronni Gamzu and Prime Minister Yair Lapid. Photo: Koby Gideon, GPO
Mobile robots help patients find the department they need, and an app tells them exactly what's happening with their tests, results and treatment.
Automated systems check patients' temperature, blood-pressure, pulse and blood oxygen levels. The results are entered directly into the hospital's computer system and if patients are at high risk, staff will be alerted immediately.
The facility is designed based on ordinary needs and a sudden influx of victims from war and terror. There are 100 emergency inpatient beds, more than any other Israeli hospital, and this can be doubled in an emergency scenario.
Special arrangements are made for psychiatric patients in need of emergency care and there is a separate room for people who come in after being exposed to sexual abuse, where their needs can be met with extra sensitivity, writes the Times of Israel.
Lapid visited the Emergency Unit
The facility was inaugurated by President Isaac Herzog, Prime Minister Yair Lapid, Health Minister Nitzan Horowitz and philanthropist Sylvan Adams, a Canadian Israeli businessman who has financed several high-profile projects in Israel in recent years. He donated $28 million to the hospital, which names the ER after him.
Before the ceremony, PM Lapid visited the new emergency unit and its various departments, together with the hospital director and professor Ronni Gamzu, as well as Sylvan Adams.
– I want to commend you for building this new Emergency Unit, the largest and most advanced the nation. It will not only serve the residents of Tel Aviv but those throughout the country. It will ensure that the citizens of Israel receive fast, advanced and high-quality treatment, said Yair Lapid during the ceremony.
– This Emergency Room combines the very best the State of Israel has to offer: Our incredible human capital that produces the best doctors, nurses and medical teams in the world, as well as the technology of a high-tech nation that equips them with the most advanced tools to fight for our health, he added.
No one left behind
Lapid referred to the Israeli tradition that says: "We leave no one behind". Or as in your case: "We leave no one at the entrance to the emergency room," he said, emphasizing the Jewish tradition of compassion and mutual responsibility.
– This model of Jewish-Arab coexistence should also instill pride in all citizens of Israel. All of these are being realized daily in this hospital and throughout the health system, said Israel's Prime Minister, who promised that he had instructed the law enforcement authorities to deal with the ongoing violence with an iron hand, so that the hospital's capacity would not be needed unnecessarily.
– I promise you that we will support and promote any proposal designed to protect you just as you protect us. The medical teams will not be abandoned.
Yair Lapid pointed out that both he and Sylvan Adams are children of Holocaust survivors.
– You grew up with a great sense of responsibility for the state of Israel, for the next generation, for its health and its values. Your father Marcel, of blessed memory, would have been really proud of you today. On behalf of the State of Israel, thank you! Lapid concluded.