Widespread fires in Jerusalem and southern Israel
Incendiary balloons from Gaza caused a series of fires in southern Israel in August. In addition, a major fire outside Jerusalem – which the police suspect was arson – destroyed thousands of hectares of forest and agricultural land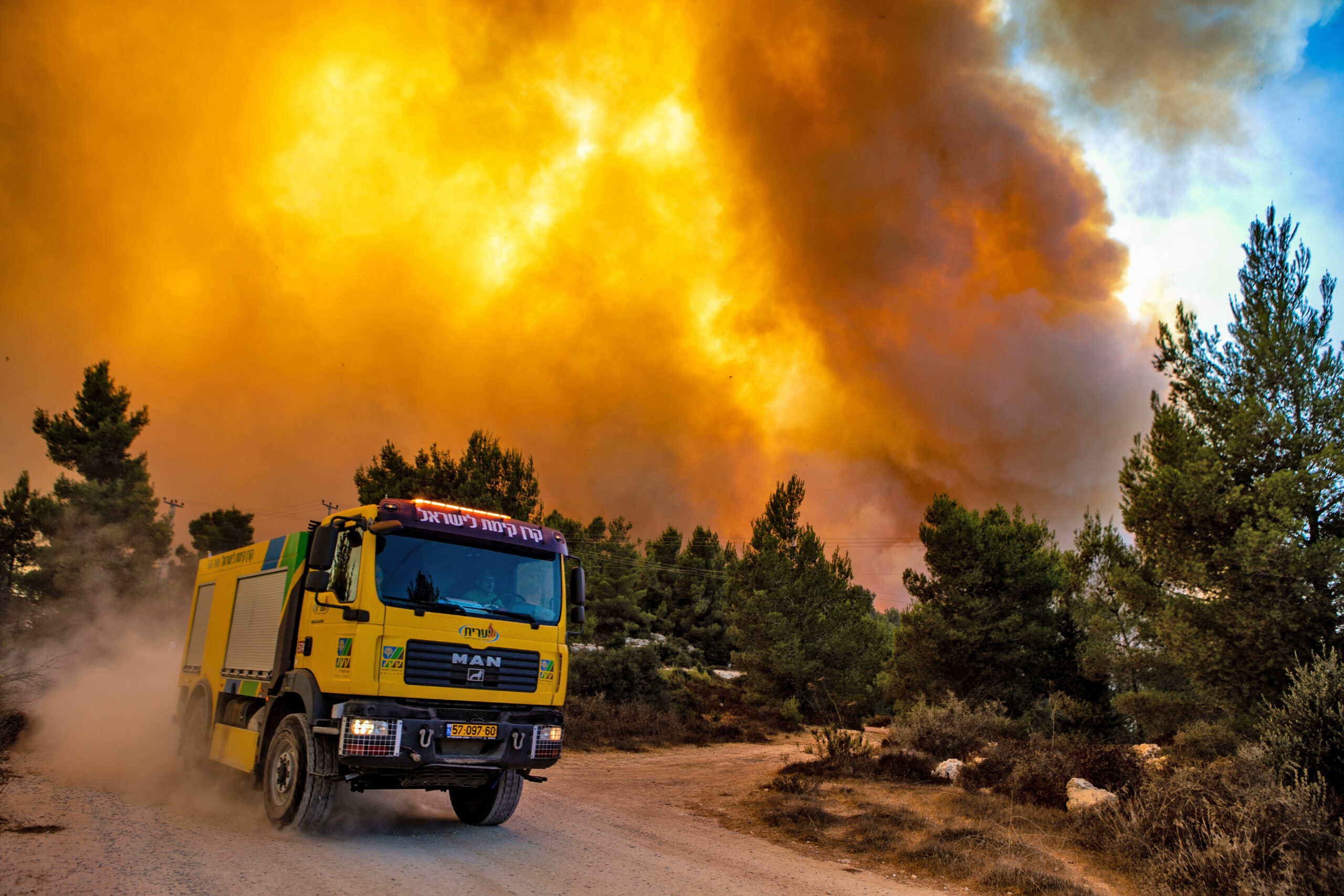 Fire investigators saw growing evidence that the massive fire in Jerusalem in August was caused by arsonist. Photo:Amos Luzon
At the end of August, a dozen fires were ignited in the Eshkol region and other areas in southern Israel after balloon-borne firebombs had been launched from Gaza. The Israeli Armed Forces responded with air strikes on premises used by Hamas for weapons factories and weapons training. Violence escalated despite Israel announcing that it would ease restrictions on the Gaza Strip, including allowing increased imports of goods and equipment for international civilian projects. Also, in early August, southern Israel was exposed to incendiary balloons from Gaza that caused forest fires near the Gaza Strip, including three in the Kissufim forest and a fire near the community of Be'eri. Gaza residents have launched thousands of firebombs borne by balloons, into southern Israel over the past three years, burning thousands of hectares of forest and arable land, killing countless animals and causing substantial damage to agricultural fields, nature reserves and private property.
Present to the President of Iran
The fire attacks from Gaza in early August came hours after Hezbollah fired rockets from southern Lebanon into northern Israel for the first time in several years. The attacks coincided with the inauguration of Iran's new president Ebrahim Raisi, directly followed by a meeting between representatives of Hamas and Hezbollah including Hezbollah's deputy secretary general Naim Qassem and Hamas leader Ismail Haniyeh. Both Hezbollah and Hamas are Iranian-backed terrorist groups. A large-scale fire broke out in mid-August on the slopes of Jerusalem near Beit Meir. The heat and the strong wind caused the fire to spread rapidly, and thousands of residents had to be evacuated from their homes. – It's a miracle that no homes burned down, said Israel's fire and rescue chief, Dedi Simchi. Fire investigators and police saw evidence that the massive fire in Jerusalem was started deliberately.
Thousands of hectares destroyed
The fire destroyed thousands of hectares of both planted and natural forest land. The strong wind created a firestorm with flames tens of meters high and the intensity and spread of the fire was the fiercest in decades, according to the Israeli tree-planting and environmental organization Keren Kajemet's forester Hanoch Tzoref, who has worked in the area for 35 years. The fire started shortly after a similar fire in northern Israel which destroyed hundreds of hectares of forest on the Golan Heights. The scale of the fire even surpassed the Carmel disaster in 2010, when 44 people lost their lives. This time there were no injuries and property damage were minimal. However, ecological damage was enormous. Countless unique plants and shrubs were lost and hundreds of thousands of small mammals and insects perished – ants, grasshoppers, beetles, spiders, worms, hedgehogs, snakes, lizards, turtles and chameleons. Birds and mammals that could escape did – and the gazelles, the fallow deer and foxes now have to deal with the loss of their habitat. Staff at Keren Kajemet estimate that it will take between 25-40 years for the forests to fully recover.