Most successful military air operation in history
Operation Focus was the name of the first air strike by Israel at the outbreak of the Six Day War in 1967. The offensive has been called the most successful military air operation in history. It was launched on the morning of June 5, 1967 by the Israeli Air Force (IAF) led by Major General Mordechai Hod.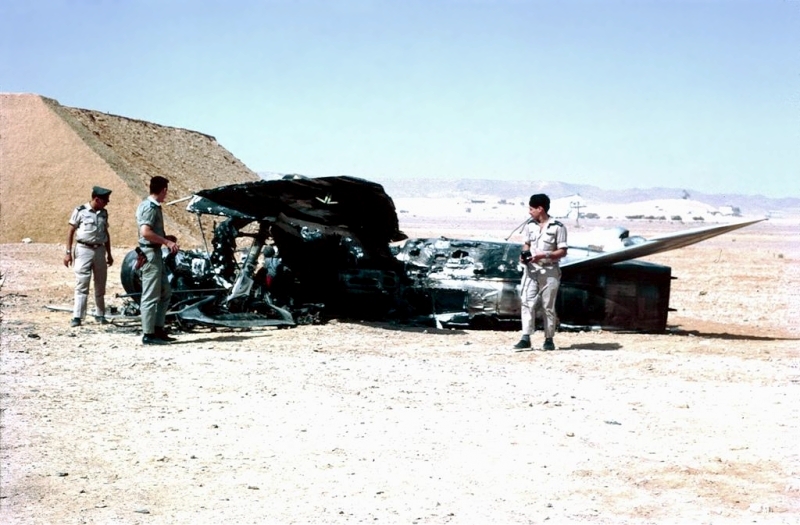 Officers from the Israeli Air Force in connection with the Six-Day War next to a bombed Egyptian MiG-21 plane at Bir Gifgafa in the Sinai desert. Photo: Ezekiel Mercy
In just a few hours after the start of the Six-Day War, 450 principally Soviet military aircraft and a number of military airfields had been eliminated by the IAF. A further 18 airfields in Egypt were rendered useless, crippling the efficiency of Egypt's air force during the rest of the war that followed. The initial strike destroyed most of the Egyptian air force while it was still on the ground. By noon, the Jordanian and Syrian air forces were also largely paralyzed. The IAF used all but a dozen of its nearly 200 operational jets, giving them full control of the airspace, which in turn facilitated Israeli ground forces. A French Israeli technology with multi-stage missiles drilling into runways rendered them unusable and left the aircraft standing on the ground. These then became easy targets of subsequent airstrikes. By the end of the first day of the Six Day War, Israel had total dominance in the air over Egypt, the Golan Heights, the West Bank, and the entire Sinai Desert. On the second day of the war, Israel used its air force against Egyptian, Jordanian, Syrian and Iraqi ground forces.
Flew under the radar
On the third day, hundreds of Egyptian vehicles trying to escape over Sinai were destroyed, and the next day, Jordan's air force had almost ceased to exist. By the sixth and final day, Syria had lost about 100 fighter jets and the fighting was over. The Israeli fighter jets flew over the Mediterranean before heading for Egypt, where the Israeli pilots flew under the Egyptian radar, well beneath the lowest point where air defenses could shoot them down. After the first Israeli wave, the aircraft returned to Israel, were refueled and reloaded with ammunition in 7 minutes and 30 seconds and left for a second wave. The same thing was repeated in a third wave. The airstrikes showed how vulnerable fixed air base facilities were to air strikes and led many countries to build shelters for their military aircraft and build highways that could serve as alternative runways. During the Six Day War, the Israeli Air Force, with 250 fighter jets, defeated a coalition of about 600 fighter jets. 452 enemy aircraft were destroyed while Israel lost 46 of its own aircraft. 24 Israeli pilots and hundreds of Arab pilots were killed.