100,000 Ukrainian Jews to Israel?
The war in Ukraine has resulted in the worst European refugee crisis since World War II. The UNHCR estimates that 12 million people in Ukraine and 4 million fleeing Ukraine will need protection and emergency assistance in the coming months. Up to 100,000 of them are expected to immigrate to Israel.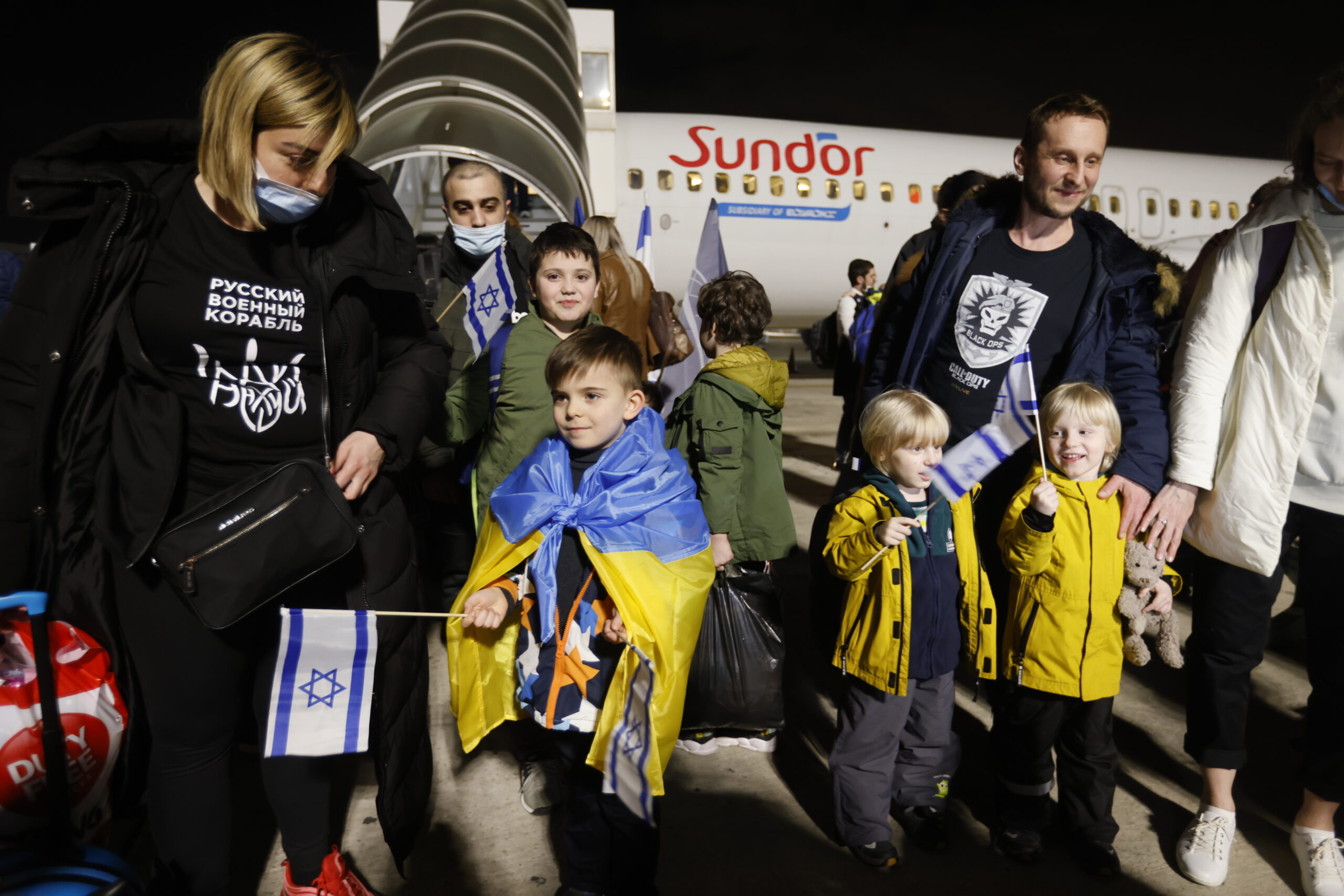 Ukrainian Jews arrive in Israel. Photo: Keren Hayesod
Multiple efforts are being made worldwide to help those who are fleeing Ukraine. A particularly vulnerable group is, as usual, the Jewish population. It's estimated that the Jews in the country number between 200,000 and 400,000 and constitute the fifth largest Jewish community in the world. Russia's war against Ukraine has led to Israel now making preparations to receive up to 100,000 Ukrainian Jews who are still living in the country. As the situation intensifies in Russia as well, it is believed that a wave of immigrants could come from there too, as Russian Jews are afraid of a modern "iron curtain" like the one that prevented emigration until 1991. Added to that, Ukraine's Jewish population has a complex relationship with their country because of anti-Semitism. President Volodymyr Zelensky is himself of Jewish descent and lost parts of his family in the Holocaust.
Diplomatic efforts
Israeli Prime Minister Naftali Bennet has held one-to-one talks with both Vladimir Putin and Volodymyr Zelensky in a diplomatic effort to create dialogue and a ceasefire. At the end of January, media reports indicated that the Israeli government was preparing for the possibility that up to 75,000 Ukrainian Jews would want to immigrate to Israel in the event of a Russian invasion of the country. Representatives of the Prime Minister's Office, the Ministry of Foreign Affairs, the Ministry of Defense, Diaspora Ministry and Jewish Agency produced a report estimating that approximately 75,000 people living in eastern Ukraine are entitled to Israeli citizenship, the Times of Israel reported. Today, it is mainly women and children who are fleeing for their lives, as men between the ages of 18 and 60 are prohibited from leaving Ukraine under martial law.
On site in Ukraine
The United Israel Appeal, Keren Hayesod, a fundraising organization which works together the Jewish Agency on site in Ukraine and the surrounding countries, has now expanded its efforts to work inside Ukraine too. Several reception centers in countries around Ukraine are open to Jews who need food, shelter or other support. Some want to remain nearby because their husbands are fighting for the country. Also at the border, staff from Israeli authorities issue visas and travel documents to those who wish to make Aliyah to Israel. Added to that, the Keren Kayemet organization (Jewish National Fund) is ready to help as many people as possible to adjust once they arrive in Israel. Since 1901 Keren Kayemet's mission has–literally–been to prepare the ground for the millions of Jews who would one day immigrate to the Holy Land.
Ruthless anti-Semitism
Ukraine has been the site of one of the world's largest Jewish communities, and their historical roots go back a long way. The country has also been a place of gross and ruthless anti-Semitism. From the end of the 19th century, the Jews in the country were exposed to pogroms and restrictions as to where they could live and what jobs they could get. At the beginning of the 20th century, the number of Jews in Ukraine was about 2.7 million. During the Holocaust, more than one million of them were killed by the Nazis, aided by Ukrainian collaborators. During the Soviet era, Jews' civil rights were restricted, and their number was almost halved during the period Ukraine was occupied. When the Soviet empire collapsed and Ukraine became a free country, many Jews left Ukraine for Israel. According to Israeli authorities, Russia's annexation of Crimea in 2014 and warfare in eastern Ukraine have led to more than 30,000 Jews fleeing Ukraine for Israel between 2014 and October 2018.