1200 rockets from Gaza
Early Tuesday morning May 2, Islamic Jihad began firing rockets from Gaza at Israel. Israeli residents in the border areas with Gaza have only 15-20 seconds to seek shelter when the alarm sounds.
One week later, on May 9, Israeli Defense Forces (IDF) launched Operation Shield and Arrow.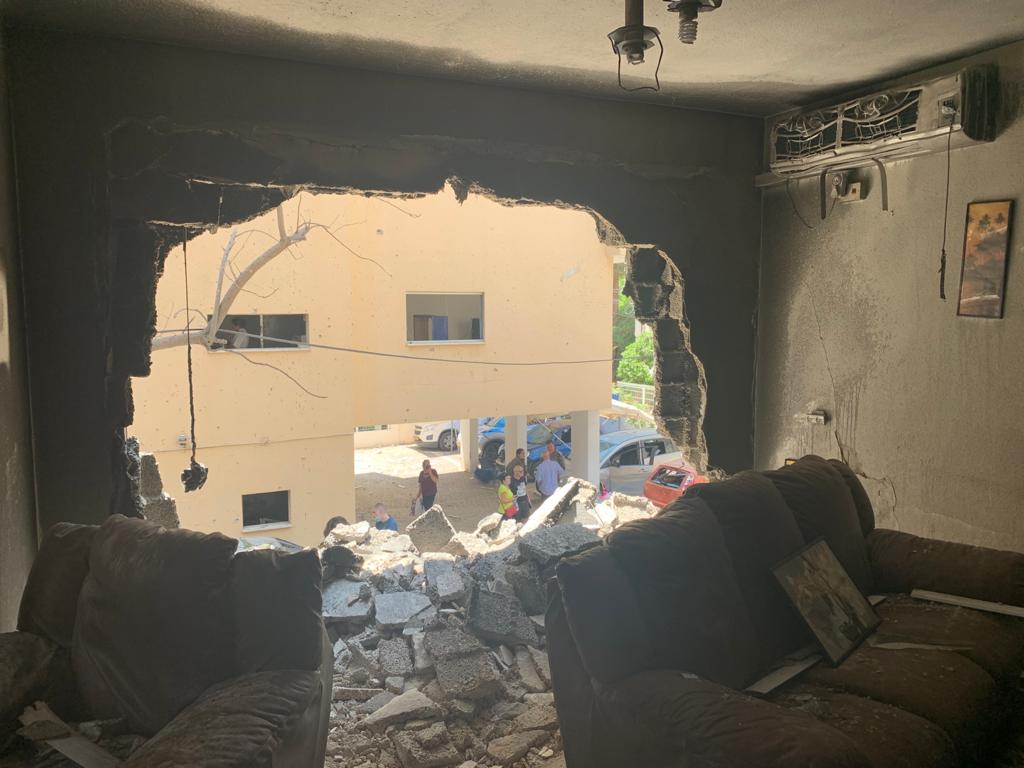 Much of the world's media play down the missiles from Gaza that are aimed at civilian Israelis, and chiefly report Israel's response to the missiles. In the picture – an apartment in Petah Tikva after missile fire from Gaza, May 2021. Photo: Israel Foreign ministry
The military operation Shield and Arrow targeted the terrorist organization Islamic Jihad in Gaza and three of its leaders, Khalil Bahtini, Jihad Ghanam and Tareq Izzeldin who were identified by the IDF. These three commanders were responsible for firing rockets at Israel in the past month and planned future terror attacks on Israelis.
In the space of five days, a total of 1,469 rockets were fired from Gaza which led to sirens sounding both day and night in southern Israel. Close to 300 of these rockets landed in Gaza, the IDF reported.
The IDF also struck the Islamic Jihad terror infrastructure in Gaza, including weapon-manufacturing sites. These were precision strikes based on real-time intelligence, while making efforts to avoid harming uninvolved civilians as much as possible, writes the Jewish News Syndicate (JNS).
Closed border
Bahtini was an Islamic Jihad commander who had been responsible for recent rocket attacks on Israel and who served as a liaison agent with the group's Politburo, the Israeli military reported.
Ghanam's responsibilities included arms and money transfers between Islamic Jihad and Gaza's ruling Islamist terror group, Hamas.
Sunday morning May 13, the day after the fragile ceasefire, Israel announced that it is gradually reopening its border crossings with the Gaza Strip. The crossings were closed when the IDF launched "Operation Shield and Arrow" early May 9 in response to Islamic Jihad rocket fire.
Ten groups
According to evidence collected by the Foundation for Defense of Democracies Long War Journal, ten Palestinian terror groups aided in the rocket fire from Gaza. These included Islamic Jihad, the Mujaheddin Movement, the PFLP, the DFLP, the Al-Aqsa Martyrs' Brigades and the PFLP-GC among others.
Nearly all of them played a supporting role by shelling Israeli communities near the Gaza border, allowing Islamic Jihad to launch rocket attacks on major Israeli cities such as Sderot, Ashkelon, Ashdod, Tel Aviv and Jerusalem, reported the Jewish News Syndicate (JNS).
Hamas did not join in the fighting this time.
Islamic Jihad stated that eleven of its members, including six leaders, a field commander and four soldiers died during the conflict. The PFLP announced that five members died while "carrying out their jihadist duty". According to the Mujaheddin movement, one of their field commanders and a soldier died.
33 Palestinians, including 14 civilians, were killed. The IDF reported that four Palestinians were killed by rocket-fire from Gaza. Varami Shadi Hamdan 16 years old, and 51-year-old Muhammad al-Shabaki from Beit Hanoun were killed as a result of a failed rocket launch as well as Lynn Balal Ubed Elsalam Loch 10 years old, and Yazen Juda Alian 16 years old.
Gaza missiles kill Palestinians
An Israeli woman and a Gaza resident working in Israel were killed by missiles fired from Gaza. Added to that, nine Israeli civilians and a Gaza resident (brother of the person killed) who also worked in Israel were injured.
A Palestinian widow and her children in the Gaza Strip will receive help from Israel after Israel deemed them victims of state terrorism. Her husband, the children's father, were killed by rocket fire from Gaza while he was working with his brother on a construction site near the city of Shokeda in Israel, when the rocket hit, reports the Times of Israel.