Map of Middle East is being redrawn
Riots at the Al Aqsa Mosque during Ramadan caused Muslim countries to band together against Israel. On April 8, Turkish President Recep Tayyip Erdoğan told Iranian President Ebrahim Raisi by phone that "the Islamic world should unite against Israeli attacks in Palestine," Turkish media reported.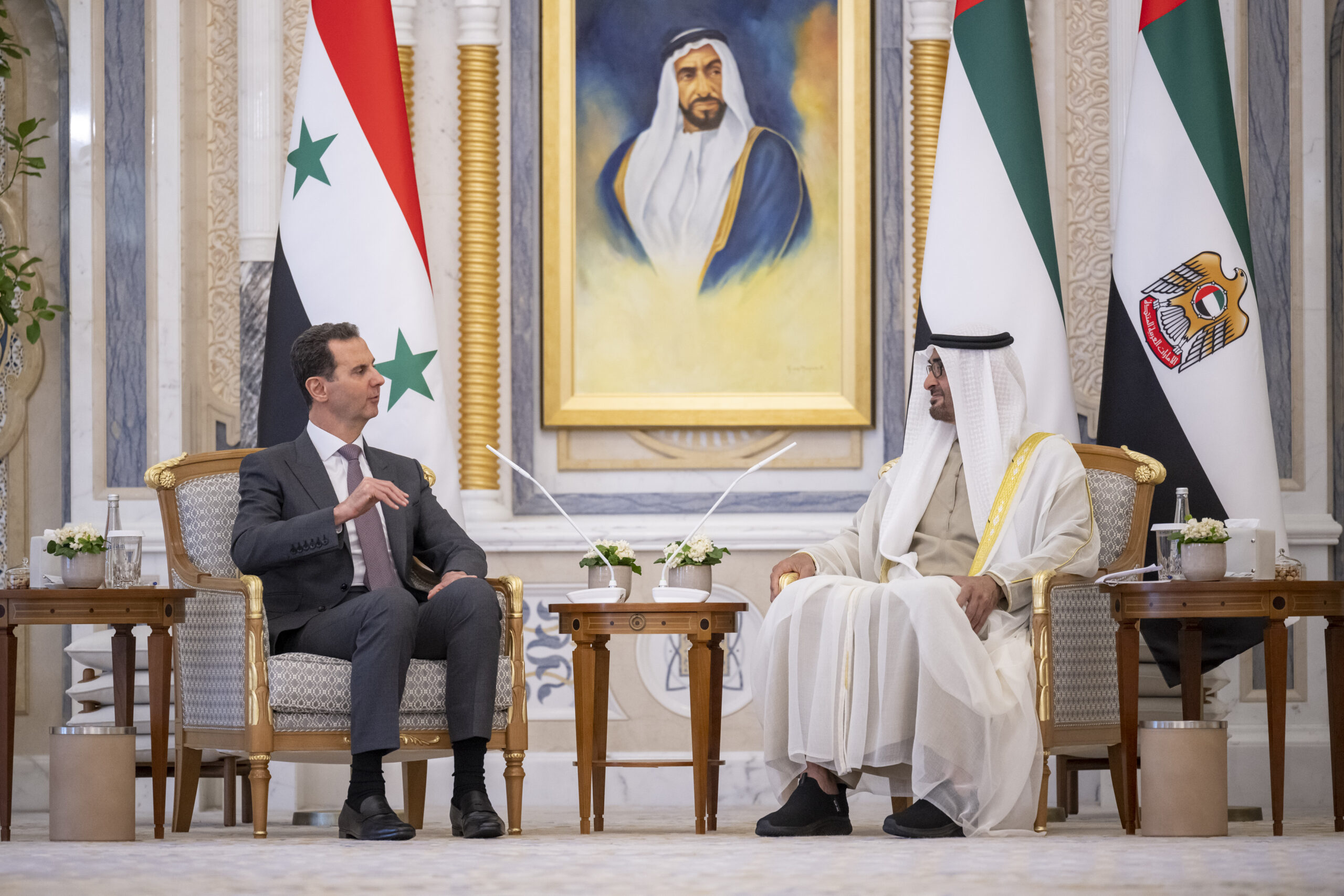 Sheikh Mohamed bin Zayed Al Nahyan, President of the United Arab Emirates, meets Syrian President Bashar Al Assad in Abu Dhabi on March 19. Photo: Abdulla Al Neyadi/UAE Presidential Court
Syrian leader Bashar al-Assad visited the United Arab Emirates (UAE) and met with the country's president Mohammed bin Zayed al-Nahyan in Abu Dhabi on March 19. The visit was made after al-Assad declared his support for Russian President Vladimir Putin's invasion of Ukraine.
On April 12, Saudi Arabia hosted two historic delegations from Iran and Syria as the two countries on opposite sides of the Persian Gulf prepared to re-establish diplomatic ties after years of bitter conflict.
On April 13, Iran and Saudi Arabia formally re-established diplomatic relations in Riyadh, the capital of the Kingdom of Saudi Arabia, with the foreign ministers of both countries in attendance. The agreement was made with China as mediator.
Just hours after Iranian state media reported that a delegation from Iran had landed in Riyadh, Saudi Arabia announced that Syrian Foreign Minister Faisal Mekdad had arrived in the city of Jeddah – the first diplomatic visit since Syria's civil war broke out in 2011, several Arab media reported.
The aim is to achieve "a national reconciliation and… bring Syria back to its Arab fold and resume its natural role in the Arab world," went the statement.
"Iranians and Syrians are in Saudi Arabia on the same day. That's totally crazy and was inconceivable a few months ago," a Riyadh-based Arab diplomat told AFP.
Syria is welcomed
Twelve years after Syrian President Bashar Assad was ousted, Arab countries have gradually welcomed his regime back into the fold – as victors in a war that has not yet ended, writes the Times of Israel.
Saudi Arabia and several other Arab countries severed ties with Assad more than a decade ago. The Cairo-based Arab League expelled Damascus in 2011.
In early April this year, Tunisian President Kais Saied announced plans to reopen his country's embassy in Syria.
On Friday 14 April, representatives of nine Arab states met in Jeddah to discuss allowing Damascus back in — Iraq, Jordan, Egypt, Saudi Arabia, United Arab Emirates, Bahrain, Oman, Qatar and Kuwait.
These diplomatic changes in the Middle East were accompanied by Iranian-backed attacks on Israel, including rockets from Lebanon, Gaza and Syria. "Although different groups may be behind the attacks from these locations, these groups are likely all linked with Iran. The groups involved include Hamas, Hezbollah, Islamic Jihad and others who may go by different or new names, but are proxies for Tehran," writes the Jerusalem Post.
34 rockets were fired from Lebanon at Israel, 16 rockets from Gaza and several rockets from Syria in the first weeks of April. In addition, several terrorist attacks were carried out, including a tourist killed and seven injured in one attack in Tel Aviv, while two Israelis were killed in the Jordan Valley.
Joins SCO
On March 29, the government of Saudi Arabia announced that it is officially joining the Shanghai Cooperation Organization (SCO) as a dialogue partner, in the aftermath of Chinese President Xi Jinping's visit to Saudi Arabia in December 2022.
Last September already, Iran was officially accepted as a full member of the SCO in the 22nd summit in Samarkand. There, Turkish President Tayyip Erdoğan also announced that NATO country Turkey was seeking membership in the SCO.
– Our relations with these countries will be moved to a much different position with this step, said Erdoğan according to Reuters.
Russia has pushed to strengthen the SCO's military dimension and proposed a joint military exercise on Russian soil this year. It was Moscow that invited Turkish President Recep Erdoğan, who was the only NATO leader at the SCO meeting in Samarkand.
Turkey has not joined the Western economic sanctions against Russia. The President of Turkey, Recep Tayyip Erdoğan, inferred in late 2020 that Jerusalem belongs to Turkey, citing the Ottoman Empire's control of the city until 1917.
"In this city, which we had to leave in tears during the First World War, it is still possible to come across traces of the Ottoman resistance. So Jerusalem is our city, a city from us," Erdoğan told Turkish lawmakers during a political speech in Ankara.