Hamantaschen—part of Purim Celebration
Purim is a Jewish holiday celebrating the rescue of the Jewish people from Haman, a Persian official of 5th century BC Ahasuerus king of Persia, described in the Book of Esther.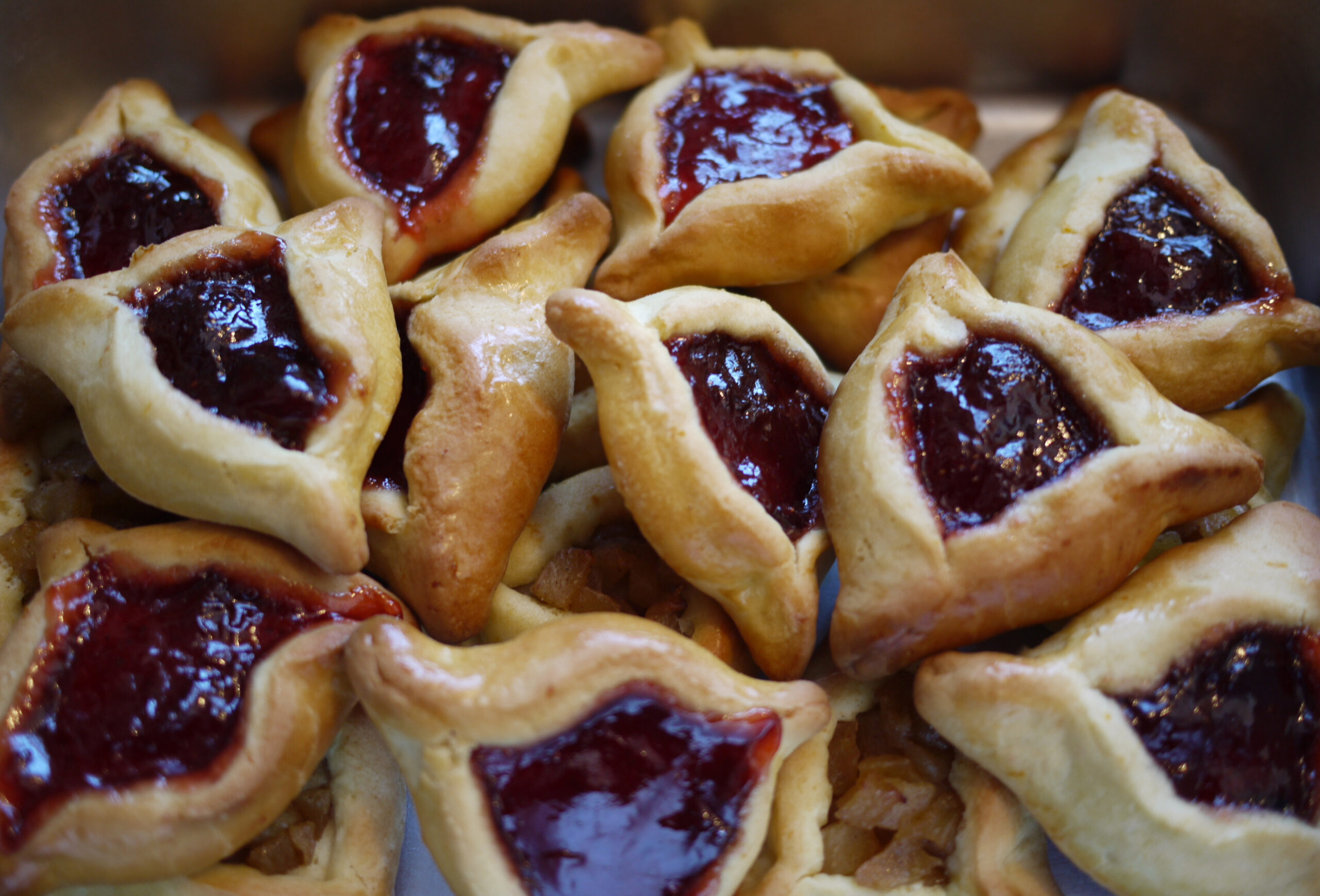 Photo: Rebecca Siegel At Purim, many Jews eat triangular pastries called hamantaschen.
At Purim, many Jews eat triangular pastries called hamantaschen. Haman's plans were thwarted by Mordecai and Esther, Mordecai's cousin and adopted daughter who had become queen to King Ahasuerus. Mordecai was given Haman's position as second in rank to the king and instituted an annual commemoration of the Jewish people's deliverance from Haman's attempted annihilation.
Purim is celebrated among Jews by giving each other food and drink, giving to the poor, and making a feast. "Mordecai wrote down these events and sent letters to the Jews in all the provinces of King Ahasuerus, both near and far. He resolved that year after year they would celebrate the fourteenth and fifteenth days of the month of Adar, that is, the days when the Jews obtained rest from their enemies and the month when their sorrow was turned to joy and their mourning to celebration. Therefore they would celebrate them as days of feasting and rejoicing and send gifts of food to each other and give gifts to the poor." Esther 9:20-22.
Public readings of the book of Esther often take place in the synagogue in connection with Purim. 
Celebrated on March 7
According to the Hebrew calendar, Purim is celebrated on the 14th day of the Hebrew month of Adar, which this year falls on March 7, starting in the evening before.
At Purim, many Jews eat triangular pastries called hamantaschen (Haman's pockets) or Oznei Haman (Haman's ears). The dough is rolled out, cut into circles and traditionally filled with raspberries, apricots or dates. The dough is then folded in towards the center from three sides into a triangular shape.
Recipe for Hamantaschen:
Dough:
1.75 dl sugar 115 grams of butter, room temperature ½ teaspoon vanilla extract 1 egg, plus 1 egg for brushing 2 tbsp orange juice 4.75 dl flour, sifted ½ tsp baking powder (use 1 tsp if you want a softer cake) ¼ teaspoon salt
Filling:
2.5 dl sesame paste 2.5 dl sugar Water as needed 2 tbsp sesame seeds for garnish Instructions: Mix the sugar and butter in a large bowl with an immersion blender until light and fluffy (about 3 minutes). Then add vanilla, 1 egg and orange juice and mix. After that, add the flour, baking powder and salt and mix with a spoon until blended. The dough should be a little sticky. Form the dough into a ball, wrap in plastic wrap and let it cool overnight. Make the filling in the meantime. Mix together sesame paste and granulated sugar. If the sesame paste is a little dry, add water until the mixture is easy to handle, much like peanut butter. Heat the oven to 175 degrees C.
Roll out the dough to about 3-6 mm thickness on a lightly floured surface and then cut into circles with an 8-9 cm round cake-cutter or a wine glass. Place 1 teaspoon of filling in the center of the circle of dough and fold over the three corners into a triangle. Place the hamantaschen on a sheet of baking paper and freeze for 30 minutes to prevent spreading. Then brush with the beaten egg and sprinkle with sesame seeds. Bake for 12-15 minutes until browned on the bottom. Cool completely on a wire rack before serving.
Recipe: whatjewwannaeat.com